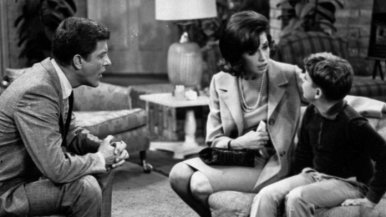 YES! You're right! It's the "The Dick Van Dyke Show"
I caught the news on AOL that the Dick Van Dyke show premiered on Oct. 3, 1961.
When we were growing up in Tehran, we knew Dick Van Dyke as the dancing, singing chimney sweeper who alongside of Mary Poppins entertained the Banks children at a London Park. What a delightful and adorable movie was it. In Tehran we had two T.V. channels. One was in Farsi and the other one in English. Not everybody could get the English Channel, I guess, because they needed a special antenna or maybe it was the TV set. You could watch the Dick Van Dyke show on the English channel, but at our home we didn't have reception. I watched the show when we moved to the States and it is one of the shows that I enjoy watching it over and over just like the Lucy Ball.